7 BENEFITS OF PLAYING BADMINTON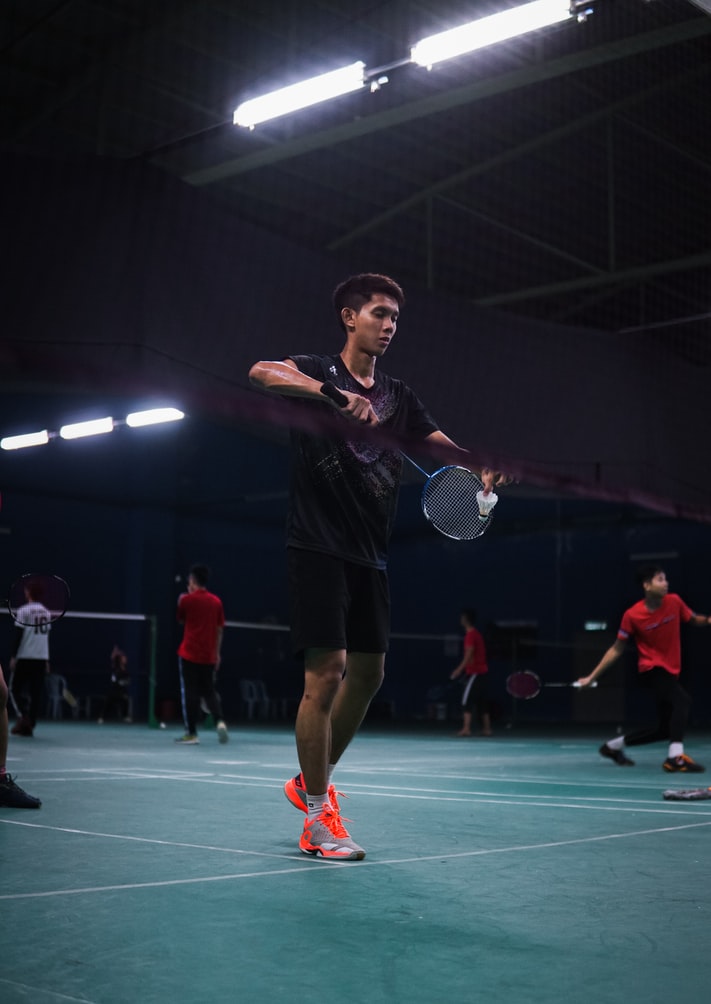 Staying healthy and fit should be a prime focus in everyone's life. Going for a run or working out at the gym are great ways to stay fit, but if you are looking for a fun way to switch it up, we highly recommend Badminton over any other sport!
Badminton is one of those sports where you can have fun, meet new people and have a great workout. Sure there is a learning curve to it, but once you get the hang of it; it can be pretty addictive. You've probably heard people say, "Badminton is great for your body and keeps you fit." While that is true, it's more than just that. The advantages of Badminton aren't limited to just the body; it's beneficial for your mind too.
1. MUSCLE STRENGTH AND ENDURANCE
If you want to be able be active and play a sport for prolonged period of time, you need to have muscle endurance for it. Playing Badminton increases muscle strength and endurance over time. When you first start playing in 20 odd minutes your muscles may start feeling a bit tired. As you play overtime, those 20 minutes will become 30, then 40 and so on. This is because over time, our muscles become stronger and can last longer.
2. STAMINA
Has anyone ever come up to you and say, "Oh you play Badminton? You must have great stamina!" Well they aren't wrong. If you play a sport like Badminton, your stamina will definitely improve. Doing physical activities becomes effortless. Badminton improves your stamina as it challenges your lungs to last longer. Having good stamina in general can be beneficial throughout your life. Frequently playing Badminton will help reduce fatigue and this is one of the best advantages of Badminton.
3.IMPROVES METABOLISM
The higher your metabolism, the faster you can burn calories. Of course, that's something we all long for. A better metabolism means you have more energy and you feel better. Badminton helps to improve your metabolism. When playing, you'll be burning calories which leads to an increase in demand of oxygen, to compensate for the loss of energy. This results an increase in blood circulation which eventually leads to a faster metabolic rate.
4. KEEPS YOUR HEART HEALTHY
A happy heart is a healthy heart. In order for your body to function at its best , a healthy heart is essential. Badminton helps decrease cholesterol levels which can block your blood vessels. It improves blood circulation and strengthens the muscles of the heart, allowing for more blood to be pumped. It can help in reducing high blood pressure as well.
5. IMPROVES MENTAL WELL BEING
If you're someone who gets stressed fast, a game of Badminton can do wonders. Playing Badminton can have a very positive and satisfying effect on one's mental health. Physical activity like Badminton makes us feel good which leads to release of feel-good hormones called endorphins. It reduces anxiety, depression and stress. Playing Badminton has the same effect that going out for a walk in nature has; it is like a breath of fresh air!
6. IMPROVES YOUR CONCENTRATION
Sure, Badminton has amazing physical benefits, but the mental benefits shouldn't be forgotten. Badminton really keeps a player on their toes and makes your mind quite sharp and alert. Quick decision making is a skill you develop over time while playing a fast-paced sport such as Badminton.
7. THERE'S A GREAT SOCIAL LIFE TO IT
Humans are social beings. Having a social aspect to your life is important to maintain a healthy life balance. You get to meet and interact with people who have similar interests. Being surrounded by similar people, you learn how to develop deeper connections and improves your overall confidence. You not only meet new people, but you meet different people from different walks of life, that you wouldn't have otherwise. This helps you become more social. That feeling of being lonely reduces significantly. Having good friends around can just make you happier at the end of the day.